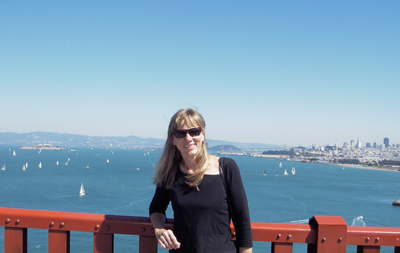 Dr. Nancy Iverson
Nancy Iverson, producer and director of "From the Badlands to Alcatraz," is a pediatrician who puts her ideas into action for the benefit of children and families in her work in San Francisco, the Bay Area, and at the Pine Ridge Indian Reservation.  With honors including a 2001 proclamation of "Dr. Nancy Iverson Day in San Francisco," and a 2005 Certificate of Award 'for valuable contributions to the promotion of good health and awareness to the Oglala Lakota people' (Oglala Sioux Tribe, Lakota Nations Wellness Team), recognition for "Outstanding Contributions to Children and Families (USF Center for Child and Family Development), designation as the 2004 Honoree for Support for Families of Children with Disabilities, and a Certificate of Honor for Outstanding Service (SF Board of Supervisors), she brings to PATHSTAR, the nonprofit she founded in 2000, more than twenty years of experience in clinical pediatrics and medical education along with her background with the Indian Health Service at Pine Ridge Reservation in her native state of South Dakota.  Her practice of medicine, dedicated to developing and nurturing family and community integrity, compassion and caring emphasizes individual and collective health, education, and support.  During the last decade she has also worked extensively in the field of pediatric hospice and palliative care, incorporating her clinical skills with her expressive arts passions and talents.
When she's not caring for families, she's swimming in the San Francisco Bay. In response to a very painful—and at times disabling—spine condition, she began to swim in the numbing cold of the San Francisco Bay as a way to alleviate excruciating pain.  Even in times when she could barely walk, she discovered the icy water eased the agonies of back spasms.  And the San Francisco Bay is gorgeous.  She was hooked.  Committed to almost daily open-water swimming, she joined San Francisco's South End Rowing Club and ventured out of Aquatic Park into more challenging swims.  She was the first woman to participate in the 11-mile Bay to Breakers Swim and has completed an astounding 120 Alcatraz swims, including five round trips.
The Lakota are not the only ones who find the experiences offered through the PATHSTAR programs transformative; in the summer 2005 issue of San Francisco Medicine, Iverson wrote, "My life has changed too. It takes so much work to…organize every detail of their stay here and accompany the group on their journey. But I'll do it over and over again as long as I can. I've had the privilege now to accompany three of the PATHSTAR/ Pine Ridge participants as they finished their Alcatraz swim, I've been blessed with witnessing incredible courage and determination, I've seen and felt community support here and in Pine Ridge, and I'll always treasure the extraordinary feeling of swimming in from Alcatraz alongside a hero."
Iverson's capacity to be deeply inspired by the Lakota who have undertaken the PATHSTAR journey, her appreciation of the spectacular beauty of the San Francisco Bay, her unrelenting desire to encourage healthy change, and her passion to share Pine Ridge, Alcatraz, and PATHSTAR stories have all led to the making of her first film, "From the Badlands to Alcatraz."
Frank Ferrel, Editor/Post Production Producer
Frank Ferrel is a documentary program producer and host for Maine Public Television. He has received both Emmy and Telly awards for his work with Maine Public Television.
Prior to coming to MPBN, Frank spent 13 years producing and hosting news and features for the broadcast service of the Christian Science Monitor on both their worldwide radio and national television news programs. He won national awards for his radio programming, and was one of five Boston based correspondents reporting for their nightly news programming on the Discovery Channel's World Monitor News. He also served as host for the Monitor Channel's news and feature programs, and filed stories from throughout North America, Europe, and the Mediterranean.
In addition to his involvement with on-air broadcasting, Mr. Ferrel was also an associate professor at Endicott College in Beverly, Massachusetts, where he taught Communications, Journalism, and Visual Studies. He holds a Masters Degree in Visual Studies.
As an independent producer, Mr. Ferrel has produced documentaries for both private and non-profit clients including, Rounder Records, The Boston Science Museum, The National Council for the Traditional Arts, Sage Femme, Inc. The PathStar Foundation, the Nature Conservancy, the Massachusetts Cultural Council, Fabric Artist, Susan Merrill, The Seattle City Sextet, and the Museum of our National Heritage.
Mr. Ferrel's independent documentaries have been included in both national and international film festivals including, the Maine International Film Festival, the Northhampton Film Festival, Havana (Cuba) International Festival, the Guadalupe Festival, The Los Angeles Hispanic Film Festival, the Mothers and Babies Festival, and the New York International Film Festival.